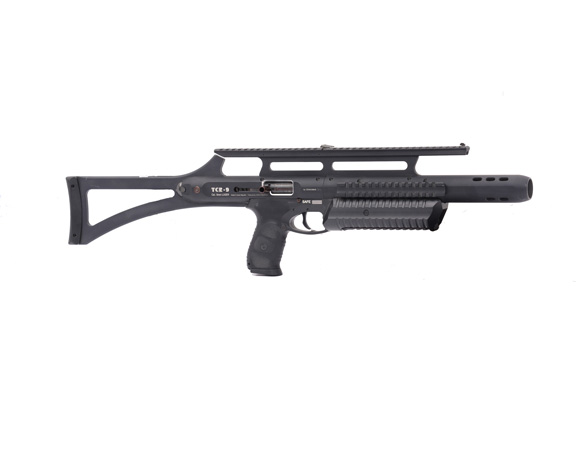 Civilian firearms TCR-9
Light, accurate, simple, pleasant to shoot. All these words can be used for a quick description of Tactical Civilian Rifle.

The 9mm Luger caliber provides plenty of ammunition choices. It is more powerful than 22 LR, offering a reach up to 100 metres. It has a good stopping power but the risk of over penetration is significantly reduced.

Semiautomatic design with a blow back mechanism is simple, rugged but provides plenty of firepower. No matter of its unorthodox appearance the weapon has a very good ergonomics. This weapon is a perfect choice for home defense as well as for pleasure time on the shooting range.
Technical parameters
| | |
| --- | --- |
| Caliber | 9mm Luger (9x19) |
| Barrel length | 270mm |
| Weapon length | 730mm |
| Weapon height | 185mm |
| Weapon width | 50mm (body 40mm max.) |
| Weapon weight | 2,8kg |
| Magazine capacity | 10, 16, 26 cartridges |
| Rate of fire | SEMI (only single shots) |
| Sights | mechanical |
| Picatinny rails | 4x by 90° according to MIL STD 1913 |