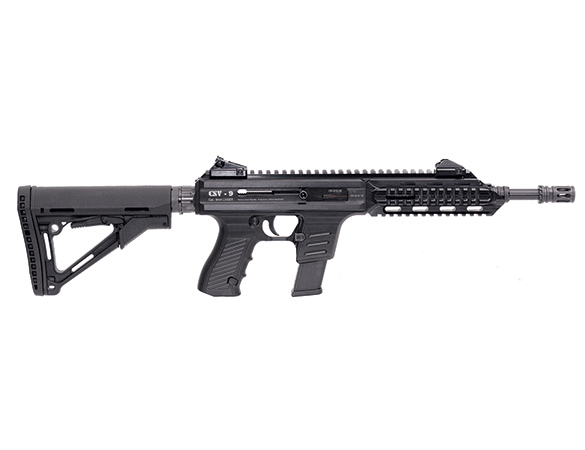 Civilian firearms
CSV-9 254mm barrel
is a weapon intended for target shooting and sport. It is produced in two production variations - barrel length 120mm up to barrel length 254mm - however, its construction belongs to the group of semi-automatic firearms and it is also suitable for protection of health and property. It is constructed for 9mm Luger cartridge and it's possible to shoot at all approved shooting ranges for pistol bullets from a distance of about 10m to approximately 50/100m.
Its intended for civilian customers, which are interested in target shooting, sport or performance of various sports shooting disciplines determined for pistols and pistol ammunition. It is also suitable for practice manipulation with weapon during the case of emergency and it may serve as suitable weapon for
Weapon is equipped with a 4x Picatinny rail, on main upper rail, which is used as cover of weapon, are attached mechanical sights or collimator sight. Other rails are situated by 90° around the axis of barrel on the handguard and it is used for attachment various tactical weapons accessories (eg. a tactical lights and tactical pistol grips).
Technical parameters
| | |
| --- | --- |
| Type | SEMI - Automatic |
| Caliber | 9mm Luger (9 x 19) |
| Barrel length | 254mm |
| Overall length | 679mm adjustable stock |
| Weapon height | 190mm with basical sights |
| Weapon width | 49mm (body 34mm) |
| Weapon weight | 2,5kg steel body (1,9-2,1kg alluminium body) |
| Magazine capacity | 10,14,17,30 as Glock Gen4 |
| Rate of fire | SEMI |
| Sights | mechanical adjustable – distance between sights cca 179mm (or red dot for picatinny rail MIL STD 1913) |
| Picatinny rails | 4x by 90° according to MIL STD 1913 |