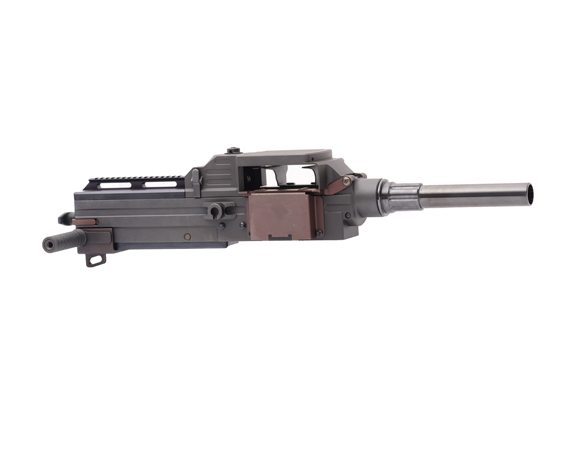 Military weapons AGL-30
Fully automatic grenade launcher caliber 30mm (VOG 17), designed for destruction of live forces and lightly armored vehicles.

Submission of ammunition is secured by belt and it is possible to use the same belt segment and magazine fed as for grenade launcher AGS-17 of Russian production.

It is also possible to use the same type of the tripod as it used for AGS-17.

AGL-30 grenade launcher is similar to a grenade launcher AGS-17 with the same purposeful focus and is suitable also to the fitting in vehicles, boats, helicopters etc.

AGL-30, is designed with using our modern breech-locking mechanism (Pat. No. US 8,117,957).
Technical parameters
| | |
| --- | --- |
| Caliber | 30mm (VOG – 17) |
| Barrel length | 300mm |
| Weapon length | 795mm |
| Weapon height | 188mm |
| Weapon width | 276/146mm (body 68mm) |
| Weapon weight | 14,2kg |
| Magazine capacity | 29 cartridges |
| Rate of fire | 400 rounds per minute |
| Sights | optical sighting device |
| Picatinny rails | 1x according to MIL STD 1913 - top rail for sighting device |