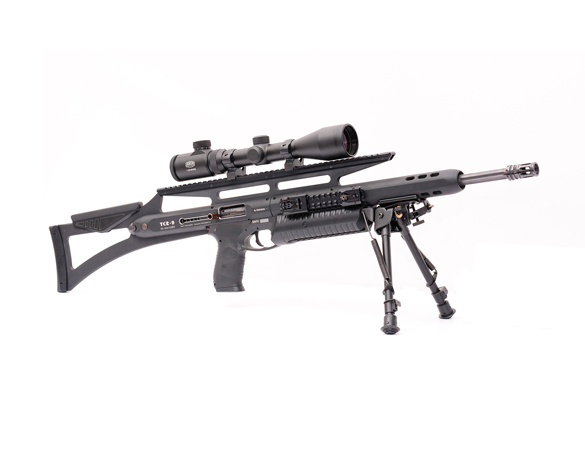 Civilian firearms TCR-9
The TCR-9 (ie. Civilian Tactical Rifle in 9mm) is an autoloading carbine designed for civilian use. The primary purpose is sports shooting and personal and property protection. The carbine is designed in the 9 mm Luger caliber, which provides pleasant shooting characteristics without excessive recoil and still is effective for defensive purposes up to some 100 meters and it is possible to shoot at all firing ranges approved for pistol ammunition.

The weapon is equipped with fixed butt and 4x Picatinny rail (according to MIL STD 1913) designed for mounting sights and other tactical weapons accessories.

Rifle TCR-9 works on the principle of classic 'dynamic' breech with firing pin, which shoots from the front position.

The rifle has completely new innovative design and can't be converts into a fully automatic weapon unless complete reconstruction of the whole weapon. The weapon is using a double column single feed magazine, inserted into the pistol grip.
Technical parameters
| | |
| --- | --- |
| Type | SEMI - Automatic |
| Caliber | 9mm Luger (9 x 19mm) |
| Barrel length | 470mm |
| Weapon length | 904mm |
| Weapon height | 200mm |
| Weapon width | 50mm (body 40mm max.) |
| Weapon weight | 3,2kg |
| Magazine capacity | 10, 16, 26 cartridges |
| Rate of fire | SEMI (only single shots) |
| Sights | mechanical |
| Picatinny rails | 4x by 90° according to MIL STD 1913 |