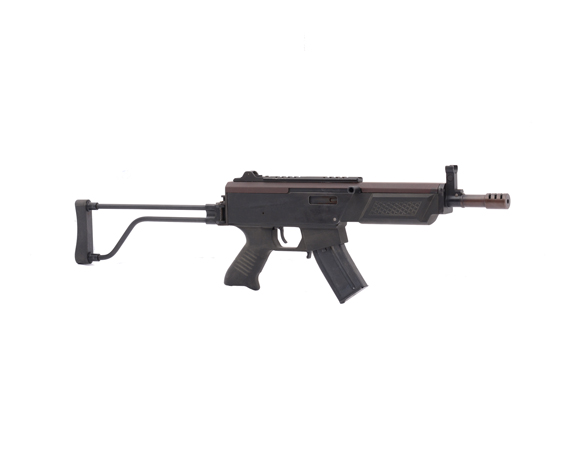 Military weapons SUB-MACHINE GUN - CZW 438
Weapon is designed in high performance caliber with a massive stopping power.
High stopping power on distances up to 200 meters is obtained by extremely high muzzle velocity of the projectile which translates into high impact energy that easily penetrates body armor, causing massive live tissue destruction.
Modular design of the weapon is compact and simple, enabling creation of many modifications without necessity of large scale reconstructions. It is easy to use maintain.
The weapon has a burst limiting device (2 or 3 shots), accessory mounting rail as by MIL STD 1913 and a folding stock.
As such this weapon represents new trend in hand held firearms development. The combatant benefits from possibility to carry extreme amount of highly efficient ammunition.
Technical parameters
| | |
| --- | --- |
| Caliber | 4,38x30 (.17 Libra) |
| Weapon weight | 2,7 kg |
| Barrel length | 220 mm |
| Weapon length | 445/690 mm |
| Magazine capacity | 15/30 |
| Rate of fire | 850 rounds per minute |
| Sights | adjustable 50, 100, 200 m |