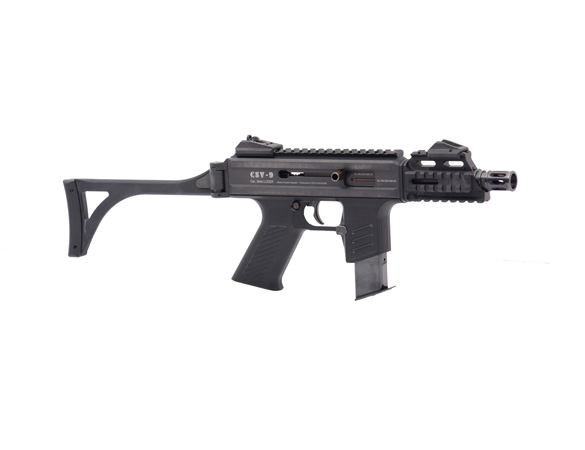 Civilian firearms CSV-9
This short carbine version was produced for the civilian market - sport, health and property protection or target shooting. Regardless of its small size it is fun to shoot and have unexpected firepower with such compact dimensions of weapon.

It is also possible to use it as a convenient weapon for bodyguards or security units.

Carbine is 9mm Luger, working on the principle of "dynamic" breech of the weapon. Folded butt provides good denial to shoulder and subsequent increase efficiency of shooting, especially in the case of fast repeating shots.

Due to the compact size of the weapon is also possible comfortable concealed carrying.
Technical parameters
| | |
| --- | --- |
| Caliber | 9mm Luger (9 x 19mm) |
| Barrel length | 120mm |
| Weapon length | 335/547mm |
| Weapon height | 150mm |
| Weapon width | 47mm (body 32mm max.) |
| Weapon weight | 1,85kg (steel body) |
| Magazine capacity | 10, 16, 26 cartridges |
| Rate of fire | SEMI (only single shots) |
| Sights | - |
| Picatinny rails | according to MIL STD 1913 |